Hello there, today we will help you understand a crucial and very important Security matter related to your computer, phone, iPad,iPhone tablet. if you have received one or multiple fake Norton emails then this guide will help you protect and fight it with this spam.
Norton is a great Security software and provides Good security but there are many Norton scams going on. the Norton scams are very limited but they still cause damage to a lot of people financially and fool people to steal important information. it's hard to identify Norton scams and fake Norton emails as they are quite similar to actual Norton Emails.
we don't want you to be the victim of the fake Norton emails or fake Norton pop-ups so let us help you understand and recognize this scam and fake emails so you don't fall in their trap.
Types Of Norton Scam
Fake Norton Email Scams
Norton Phone Scams
Norton Setup Related Scams
Fake Norton Pop ups Scams
Norton Fake Renewal Scams
Disclaimer- all these scams are done by con artists and as Norton is a reputed brand they have no affiliation with any of these fraud small Groups of individuals.
Now let us tell you how to avoid these online frauds and how these scams work. will also explain what could be at risk when dealing with different types of Norton scams.
Know more about How to fix Norton internet security scan not working
Fake Norton Email Scams
in this type of fraud, the scammers will blast hundreds of thousands of fake emails to random users, and given the big brand as Norton is many people who use Norton or have used before may consider it a legit email.
the user may end up contacting them using the phone and they might trick you into paying for repair or renewal. they may cause damage and show you fake viruses in your own system and you end up paying anywhere between $500-$800 dollars for the service you never needed.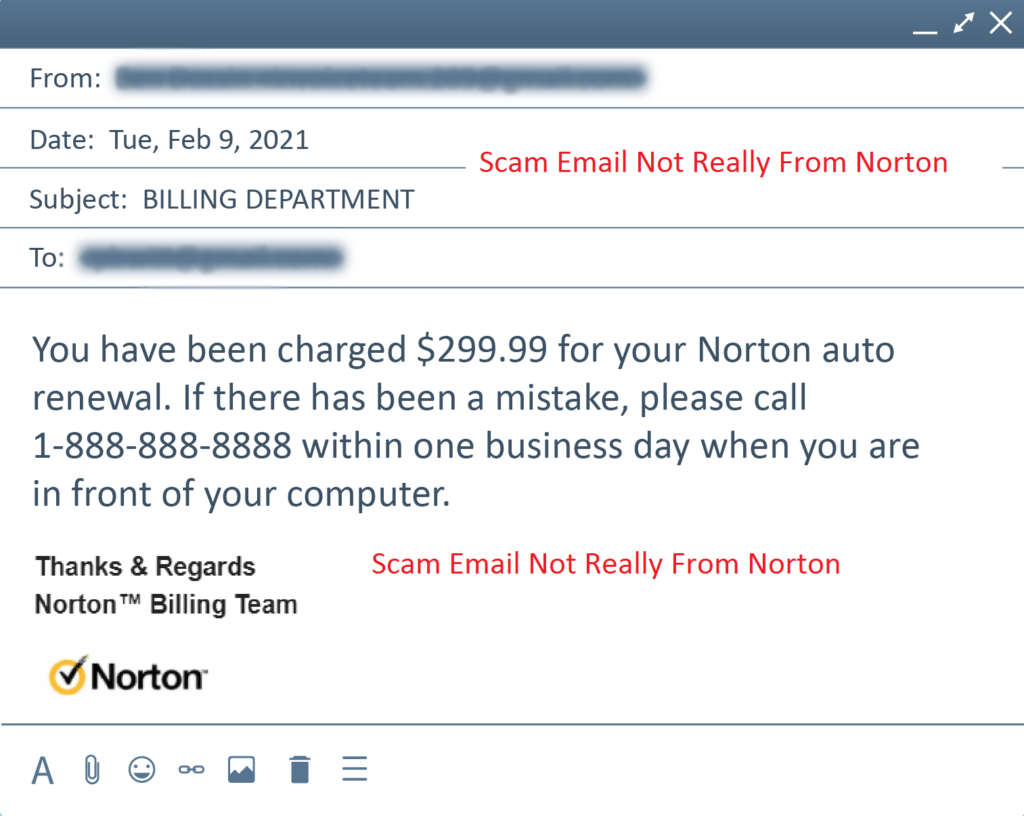 they may also claim that your email is been hacked or the system is compromised but that may not be the case so you have to prevent it. it's very hard to track these con artists as they use third-party Email blasting services with a fake name and email to blast emails to millions of users.
How to Prevent Norton Fake Email Scams in 2022?
Always verify the sender of the email and do not click on any link given in the email. if you are using the Norton antivirus you can set up email security so every email will be verified and scanned before it's opened by you.
the best way to deal with these emails is to mark them as spam and trash it. ignore it and don't open it and act on the basis of the information given in the fake Norton email.
Reporting these emails to Norton itself may not be very helpful however if you identify the email blasting service they have used and report it to the provider then they will block and remove further emails to you.
while ignoring it please make sure you don't miss the real Norton emails and always renew your Norton antivirus before it expires.
Norton Phone Scams
millions of users receive outbound cold calls spam, the scammer may use local numbers, skype numbers, and other PBX toll-free services to call you and make false claims to be from Norton support and you may have some problem with your Norton account.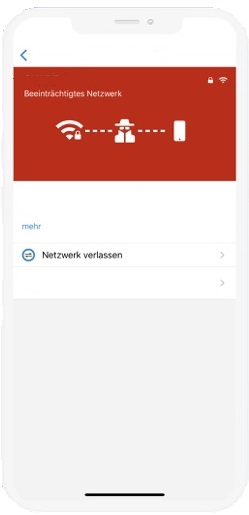 they may know your name email or address depending on where have they purchased the customer data in bulk and they may seem very trustworthy.
their English may be good and they will try to gain access to your computer and charge you money for some fake fix.
Read More about How to fix Norton Won't open Problem
How to Save Yourself From Norton Phone Scams
Well asking Questions and verify their Number. Do not grant your computer access and check your antivirus. the Norton support will not call you and ask you for remote access to your computer.
The Norton support team will only call when you will Request a callback and the support team will use legit toll-free numbers to contact you.
asking Questions, Calling back, and checking the legitimacy of the call is the only way to prevent this scam. once you have identified their number please block it and mark it as spam and never pick up the phone.
Norton Setup and Installation Scams
whenever you buy a Norton activation card online or from the retail store you would be required to activate and redeem Norton activation code.
to activate the Norton you may go online on google and bing and use keywords like norton.com/setup, www.norton.com/activate, Norton activation, or Norton product key activation, and once you type it in google, yahoo, or Bing search instead of the address bar you will be presented with a lot of search results.
in these search results, scammers may advertise using the same keywords and on top you may visit some spam websites that look like Norton and claim to redeem the Norton activation key.
once you enter the product key and click on redeem you may end up getting an error asking you to call them on their number will lead you to problems.
they steal your product key and might ask you for remote access and from there again you are putting your privacy and banking details at the mercy of fraudulent tricksters. Read More about Norton setup
these scammers may use and trick google SEO and PPC techniques to appear on top of google, bing yahoo search results causing you $400-700 dollars for the repair and fix that you never needed in the first place.
there is some Good and Legit support that helps you fix computer or antivirus Problems but for setup, you do not have any other support you can just call Norton Support directly.
Tips to Avoid Norton Phone Scams
always use norton offical website for setup, activation, download and login norton account
always contact norton official support for help and ask them to make sure they are norton
if you have purchased norton from a good thid party vendor trust them to help you with support and setup.
Do not give out any financial details to tricksters and do not authorise the payment to them.
report the search engine for bad websites and advertising so they can take action based on your feedback of the website
Fake Norton Pop up scams
this is a new type of scam that's started 3-4 years back where while browsing the internet you will get sudden pop up that will freeze your computer screen and it will ask you to contact so-called fake Norton support.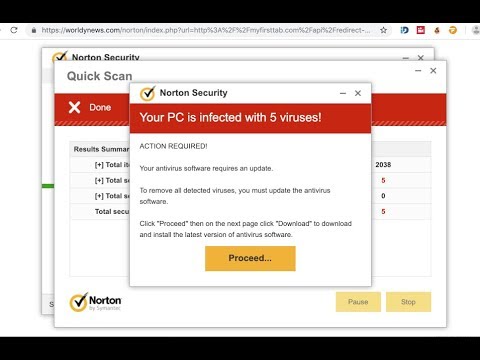 once you will call them they try to apply one or more tricks to ask you for remote access to your system and show you fake errors in event viewer or in cmd.
they will ask you to pay for the repair and charge you a lot of money for a fake fix. you should never pay for a product that you have already purchased or never used before. they are not related to Norton at all so here is how you avoid them.
Tips to avoid norton pop up scam
Don't grant remote access and ask for the compney they work for
verify the toll free number that they ask you to call
restart the computer and close the browser and close the pop up thats been freezing the screen
Here is how you close the fake Norton pop up
if you are using Press the Windows key + R togather on computer keyboard to open run Program at the left bottom of screen.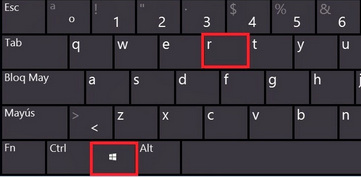 Please type taskmgr and click OK to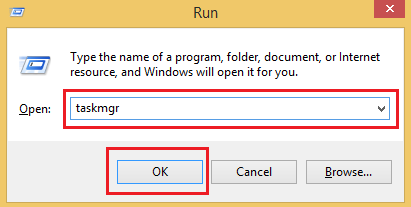 Now under Process Please select Your Web Browser one bye one for example- Google chrome or microsoft Edge
Click on End Task and it will close the browser pop up.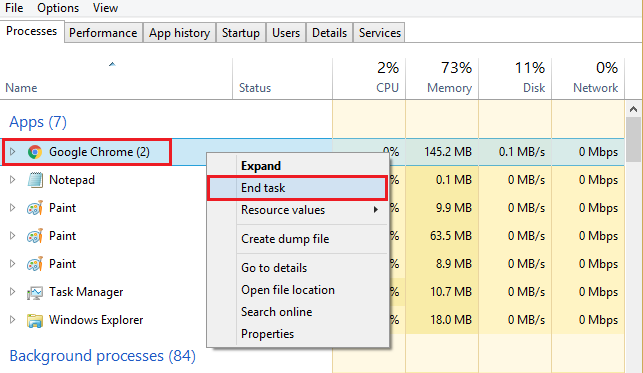 Now Relounch Your browser and please don't restore the closed tabs
clear the browser history for past 24 hours and this should fix the issue.
Tips to Avoid Fake Norton Pop ups Scams
Activate the norton safe web and if possible install any pop up blocker to avoide pop ups
pop up blockers may also block pop ups that you may need for banking and other Good websites too so be advised
always close the pop ups using the methods above
avoide using unsafe websites and ads on internet.
Don't visit unsafe online porn websites or dark web because the security will be at risk.
Norton Renewal And Refund Scams
Norton refund or renewal scams are the pool of all types of scams explained above you may get a fake pop-up, notification, or email from the fake Norton team informing you that your Norton has expired and asking you to contact the support team and there will be a number to contact.
you may have an active subscription or you may have never used Norton but they will claim that your system security is at risk Please avoid these pop-ups or emails and close it down.
Open your Norton user interface or login Norton account Please check your subscription date and make sure the Norton is really expired or you just got a fake notification
Please use the tips provided above to get rid of these scams. here is what to do if you are already scammed.
Already Scammed? Here is what to do
well if you are paid or scammed in any way by scammers it's best to contact your bank or financial and ask for a refund or chargeback on the amount.
uninstall any software or tool provided by these scam artists to make sure they are not keeping tab on you.
if you are not very tech-savvy and skillful performing troubleshooting it's best to hire a good tech support service that will cost you somewhere around $100-149/year but it's worth and will save you $500-$800 for a year.
Good tech service will offer you unlimited incident support throughout the year and you can trust them to provide you effective service. regular pc tune-up, router help, computer help, and any other technical suggestion and help will be free for the year so it's best to trust a Good Firm rather than falling into trap of scammers.
Read More about How to contact Norton customer service
in this guide we have helped you avoid, prevent and stop various Norton scams. please comment below and let us know your experience with Norton scams so we can spread more awareness because sharing experiences will help a lot of people to avoid and report Norton scams.
Let us know if you need any suggestions or help. we are always here to help you solve any antivirus-related problem you may have.