How to Fix avast blocking internet Problem
Hello there, here is a quick informative guide that may help you understand all about the relation between antivirus and antivirus connection. if your computer (Windows or Mac ) has lost internet connection since you have installed or updated avast antivirus.
Antivirus Blocking the internet connection is quite common and known but in this guide, we specifically help you with the internet not working because of avast antivirus. you can take these guides as a reference to fix any antivirus blocking the internet connection.
in some cases, a simple restart would get your internet back but try these steps in case the internet is not back.
read more about avast loading this shouldn't take long Error
Why is Avast Blocking the Internet Connection
avast has more than 100 million users around the globe and it has many components such as cleanup, VPN, and different versions of antivirus and online security.
a lot of users have reported that their system has gone slow, the internet is not working system is lagging or freezing. we explain about slow system problem different post lets focus on internet problem in this.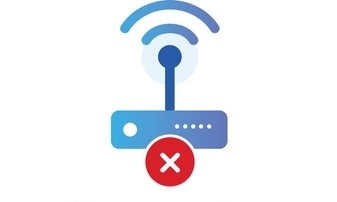 Note- Avast is a great antivirus software and very easy to use. you just need to make the right settings and configuration according to your system.
Most of the time when it happens it's because of misconfiguration but let us understand what components can block internet connection.
AnyVirus, threat or corupted program is detected and avast has blocked internet connection to prevent the download of infection.
Avast Active Shileds are disable or Avast Firewall Rules blocking the connection
specfic website is blocked by url blacklist
outdated or expired version of avast antivirus
the Pro-tip- the temporary fix would be to turn off the avast for some time and see if that helps you get back to the internet. this will also help you make sure that avast is the reason the internet is not working.
Read More information about avast url blacklist
Delete Any Corrupted Files detected
if your avast antivirus has detected and suspicious website, files, or malware please take action to check and remove the corruption from the system.
Avast will auto-detect and remove all confirmed viruses, malware, or dangerous files but in case the file is suspicious and the virus chest is full please look into the virus chest and remove any corrupted file.
Here is how you check the virus chest in 2 different ways.
if you can see avast icon at the bottom of the screen near toolbar and icons Please Right click on it.

Now click on virus chest and from here you can Delete Detected Files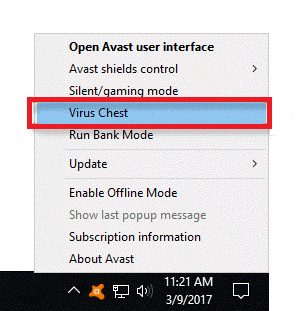 you can also use the avast user interface to access the settings.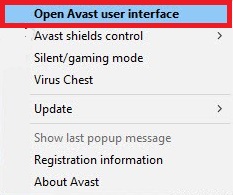 open the avast UI(User interface) and click go to main window.
from the left menu panel please click on Protection the click on antivirus

from here you can click on virus chest and delete the files in virus chest.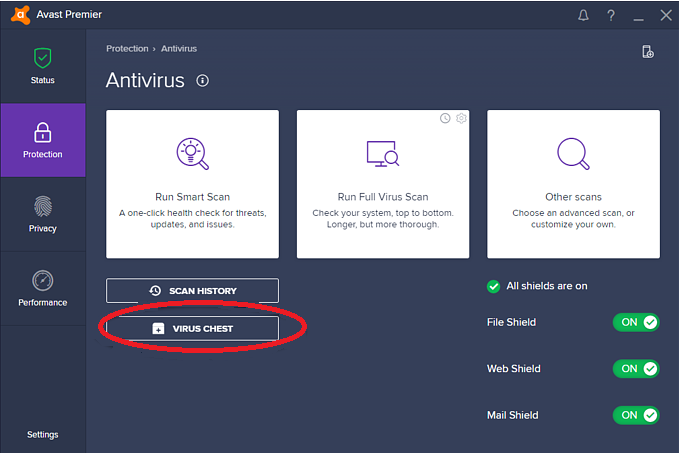 for any confirmed virus please remove it from the virus chest and delete it. for any suspicious files, you can send a report to get it checked by avast labs.
know more about How to disable avast antivirus
Reset Avast Settings to default
once avast is installed your firewall is managed by avast antivirus. it has its own management and control over the security and firewall. here is how you reset the firewall rules to default settings.

open your avast user interface and go to settings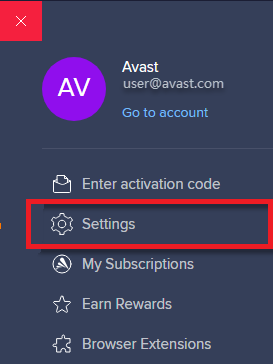 under settings select General and then Choose Troubleshooting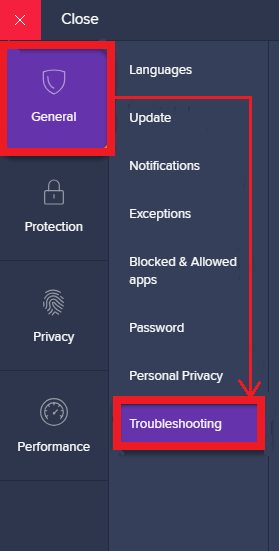 From here you can cilc on Reset to default and settings will be revert back to default avast settings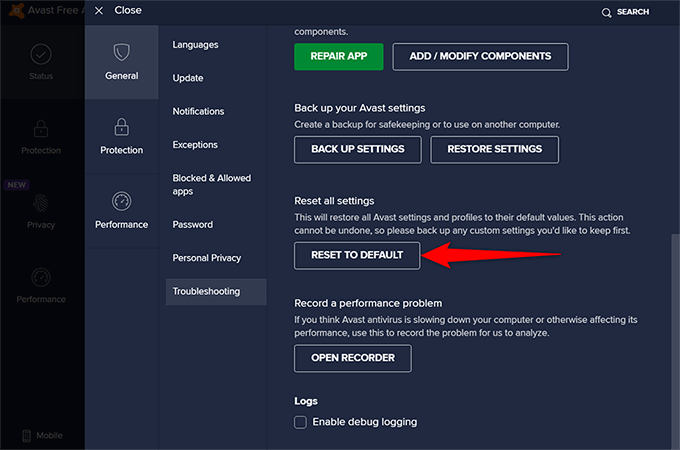 when asked please confirm the action and exit the application once the process is done.
Restart the system and check to see if the issue is resolved.
Turn off Firewall Or Change Avast Firewall Rules
in case you have changed any settings or opted for any other security settings, it's possible that it may interfere with your internet connection.
Go to Your computer and open the avast user interface
Now from the avast menu please click on Protection and Go to Firewall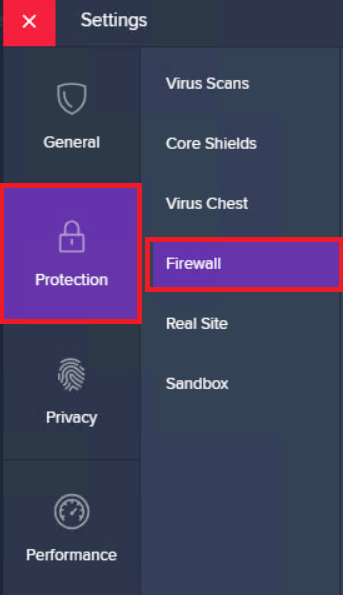 Turn off the firewall and confirm it when asked


Exit the avast user interface and check the internet connection.
if the issue is resolved then you would need to turn the avast firewall on but change the firewall rules.
Follow the same steps to go to firewall again and this time make sure the firewall is set to public
exit the application and check to make sure the internet is working.
Avast does provide network security and it extends the security to the internet connection. let's troubleshoot the internet problems with the avast wifi inspector
Check the Wi-Fi Inspector feature
go to your avast user interface and click on Protection from the left of your avast menu.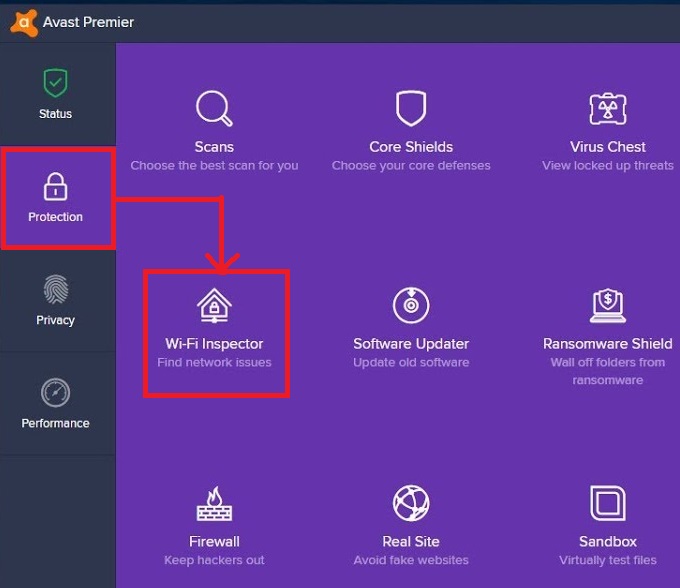 click on Wi-fi inspector and then click network scan to start the scanning on the network.

this will help you understand any issues with network volnerbilityes
sometimes it is not avast and the wifi may have other issues with the particular problem. you can check out wifi keeps dropping the internet connection and maybe that will help.
sometimes the avast installation files or security files may get corrupted and it's best to repair the app.
Repair the Avast From Troubleshooting
open the avast antivirus and from the main menu click on General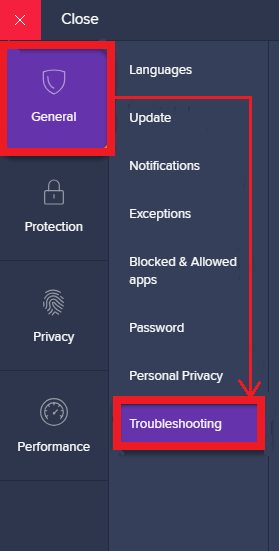 under the geneal settings please click on Troubleshooting
Click on repair app and start the repairing of the application.

once its done please exit the program and restart the system.
it is known that when the antivirus program is outdated it may start to act strange and cause other issues such as internet and performance problems.
Update the Avast to Latest version
open the avast application user interface and from Left menu Please select General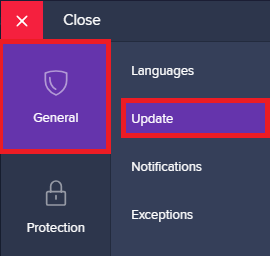 from the general settings Please click on Update
click on check for update and if available please update the application

restart the computer and check to find whether internet is back or not
when nothing seems to work it's the last option to uninstall avast antivirus and reinstall it later once the internet is back.
if your avast is expired it may cause trouble. try to uninstall and then download the avast antivirus again with the latest version. if your avast is blocking internet then this would be last resort.
learn more on how to fix avast won't update problem
Uninstall/Reinstall Avast Program
Go to your computer and click on the windows tiles icon at the left bottom of the screen.
type settings and click on apps and from apps please select your avast antivirus and right click on it

click on uninstall and start the avast removal process.

for mac computer or in detailed avast uninstall process please use this guide. and here is how you can uninstall avast antivirus from system.
Contact Support
if none of the methods above solve the problem is best to contact the support team to help you solve the problem. they may help you find accurate help regarding your computer or avast account.
we hope that all of this information helped you get the internet back. please comment below and let us know if you need anymore help with your avast antivirus.